Welcome to Fishing The North Country
Welcome To Fishing The North Country Wisconsin Fishing Lake Map Books!
NEW! - While the supply lasts - Vintage Fishing Hot Spots Original Lake Map Books - Authors Editions!
Great Holiday Gift Ideas! Very Limited Quantities!
Scroll Down To See the Books Available
Fishing The North Country publishes Wisconsin lake map and other fishing books for the Wisconsin Outdoorsman all written and researched by former Fishing Hot Spots research editors and authors, Russ Warye (Presque Isle, Wisconsin) and Ken Jackson (St. Germain, Wisconsin). Additionally, both are noted guides and fishing educators with numerous seminars, articles, fishing schools and presentations to their credit.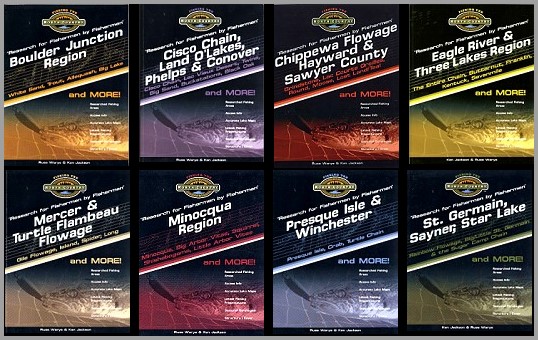 :: ABOUT OUR WISCONSIN LAKE MAP BOOKS ::
New Wisconsin Lake Map Research...
New Wisconsin Fishing Lake Maps...
New Wisconsin Fishing Areas...
New Fishing Presentations...
All the books are 8 1/2" x 11", have 40 or more lake maps and are approximately 150 or more pages, depending on the region.
:: LAKE MAP BOOKS FEATURE ::
Specific Fishing Locations (including seasonal patterns)

Latest presentations & lures for all species

Maps with GPS shoreline accuracy (Including 1/2 minuet latitude/longitude intercepts on larger lakes)

Fishery research, growth rates, reproduction & stocking

Species abundance & forage availabilty

Lake components: Bottom materials, fertility, clarity, shoreline cover, underwater humps, detailed weedlines, drowned wood, cribs...and much, more!


Accurate access locations & conditions
"Researched by Fishermen for Fishermen"